In an age where customer centricity and efficiency are more than just buzzwords, businesses are constantly looking for ways to innovate and improve both their operational efficiency and customer experience. As we have seen in a previous article on this blog, one of the most impactful developments in this area is the rise of generative AI bots. This is where our idea for a bot specifically designed for corporate environments came from. A bot like Botmaster not only revolutionises how companies engage with customers but also streamlines internal processes, making it an invaluable asset for any modern organisation.
One corporate-focused bot solution – many ways to enhance operational efficiency
When we talk about AI corporate bots, the first thing that usually comes to mind is how they can automate repetitive tasks. Botmaster, for example, is an excellent tool for freeing up valuable employee time. Whether it's customer service, data entry, or internal resource management, a well-designed bot can handle many responsibilities, allowing human workers to focus on more complex and value-added activities. The automation enabled by such bots can substantially increase a company's operational efficiency. For example, it can be used during the onboarding of new resources to train them and answer their questions about new tasks or the company itself.
Or it can improve the availability of customer care to the public, adding more value to customer service by offering uninterrupted support. We all know that customer queries don't follow a 9-to-5 schedule and when a problem arises, clients want immediate answers. A corporate bot enables companies to meet this demand by providing continuous service, even during off-hours. This 24/7 availability not only increases customer satisfaction but also provides an excellent competitive edge over competitors that have yet to embrace the power of AI.
But the advantages do not stop there. Every company is different, and this is why one of the most powerful features of Botmaster is easy personalization. Customers expect tailored experiences, and employees require specific information pertinent to their roles. Botmaster addresses this need by offering customization features that allow the bot to answer specific queries and handle tasks unique to each business. Furthermore, its compliance with GDPR ensures that all interactions are secure, maintaining the confidentiality and privacy essential in a corporate setting. Another good news? We made it so it's ridiculously easy to train: Botmaster can be trained without previous experience or special skills; anyone can do it and it's easy and fast.
If this was not enough, Botmaster offers another significant advantage: ease of integration. We are AWS Partners and therefore Botmaster is 100% built with AWS, so it seamlessly meshes with the existing corporate infrastructure. This makes it incredibly convenient to use the bot across various departments, ensuring a uniform interface for both customers and employees and easy implementation.
Botmaster helps solve common business challenges
But with Botmaster we wanted to go beyond the standard features: we wanted to create a tool that is truly valuable to our clients and makes their work easier while helping them deliver an extraordinary customer experience. So, we designed our Botmaster to solve specific business problems. Here are some common corporate criticalities that can be easily solved with Botmaster:
Streamlining workflows and employee support
Through its integration capabilities, Botmaster can trigger various workflows automatically, such as support ticket creation or forwarding requests to the right departments. This not only expedites processes but also reduces human error. Furthermore, the bot serves as an information hub for employees, answering FAQs and providing quick solutions to common problems, thereby freeing up HR resources.
Simplifying information retrieval
For large organisations dealing with voluminous data, Botmaster acts as a centralised information retrieval point. This eliminates the need to navigate through multiple systems, saving time and reducing complexity. On the plus side, you can choose what kind of information should be available about your company, so you can always make sure you have control over privacy and sensitive data.
Streamlined onboarding and training
Automated bots significantly reduce the costs and time involved in new employee onboarding and ongoing training. The ability to provide essential information and answer frequent queries ensures a smoother integration process for new hires.
In-depth data analysis
Last but not least, in the modern digital era, data serves as the bedrock of innovation, and AI corporate bots like Botmaster play a crucial role in extracting valuable insights from this foundational asset. They gather valuable data on user interactions, offering actionable insights for business optimization. Such data-driven decisions can radically improve your understanding of customer needs and employee efficiency.
An integrated, tailor-made corporate AI solution
As an advanced AI corporate bot, Botmaster is not just a tool, but an integrated solution designed to solve multiple challenges faced by modern businesses. From improving operational efficiency to providing personalised, 24/7 customer service, our new tool leverages the power of generative AI to offer a wide range of benefits that can dramatically improve both internal processes and customer interactions. So, if you haven't considered implementing an automated bot in your business yet, now might be the perfect time to start: Botmaster could very well be the missing link in your digital transformation journey. Contact us for more info, we will be happy to have a chat about how Botmaster could improve your business customer centricity and efficiency.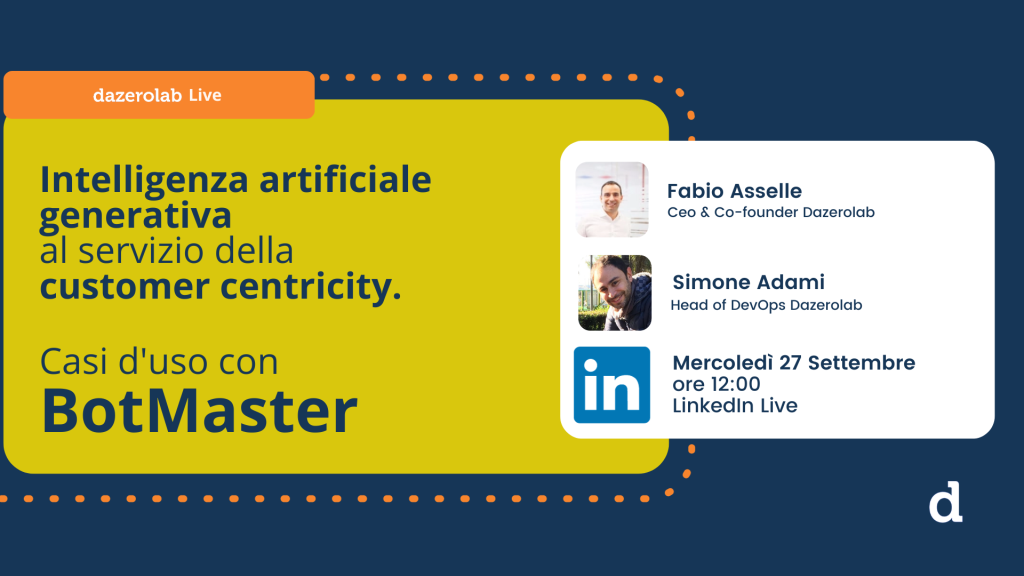 Do you want to know more? Then don't miss our next live chat on LinkedIn "Intelligenza artificiale generativa al servizio della customer centricity: casi d'uso con Botmaster" (Italian language) that will take place on 27th September at 12.
We will show a Botmaster live demo with a practical approach to tips and techniques to enhance your company's customer-centricity. Don't miss it, we look forward to seeing you there!